Since we are all in lock down, the one thing we all have had to do is learn to cook! I have noticed that I've started to get food envy from everyone i'm following on instagram making all these amazing meals and spreads which seem so daunting, how do they do it!! But the truth is once I started getting a little organised with my produce it's not that hard at all, especially if you pick the right recipes. So here is a list of some easy-peasy recipes any can do .
Tagliatelle With Pesto & Courgettes
(Serves 2) via sheerluxe.com

Pesto is easy to make and brings out the best in fresh basil. It works perfectly with courgettes, and together they make the tagliatelle juicy and flavoursome.

INGREDIENTS
250g of fresh or dried tagliatelle
2 courgettes, cut into long strips
For the pesto:
1 garlic clove, peeled
150g of basil leaves
75g of pine nuts, preferably Mediterranean
100g of parmesan cheese, freshly grated
5 tbsp of extra virgin olive oil
​Sea salt and freshly ground black pepper
METHOD
First make the pesto. In a pestle and mortar, crush the garlic with ½ a tsp of sea salt to a smooth paste. Add the basil leaves and pound so the leaves turn to a pulp. Add the pine nuts and crush until smooth. Add 3 tbsp of water and emulsify, then add the parmesan cheese. Finally, slowly work in the olive oil.

Cook the pasta with the courgettes in a large pot of boiling salted water for about 3 minutes – the pasta should still have a bite. 

Meanwhile, warm half the pesto in a frying pan. Using tongs, lift the pasta and courgettes from the water and add to the frying pan. Toss with the pesto and add 2-3 tbsp of the pasta water to loosen the sauce so it coats the pasta strands.

Check the seasoning and serve with the remaining pesto on top.
Chicken Breasts with Mushroom Pan Sauce
(Serves 4) via laughingspatula.com
With just a quick sear and a few ingredients you have the most amazing dinner and mushroom pan sauce (aka: GRAVY!).
INGREDIENTS
4

 

chicken breasts

2

 

tablespoons

 

of olive oil

salt and pepper

1

 

tablespoon

 

butter

250 grams of

mushrooms

 

sliced

3

 

cloves

 

large garlic

 

chopped

2

 

tablespoon

 

white flour

1

 

cup

 

chicken stock

additional salt and pepper to taste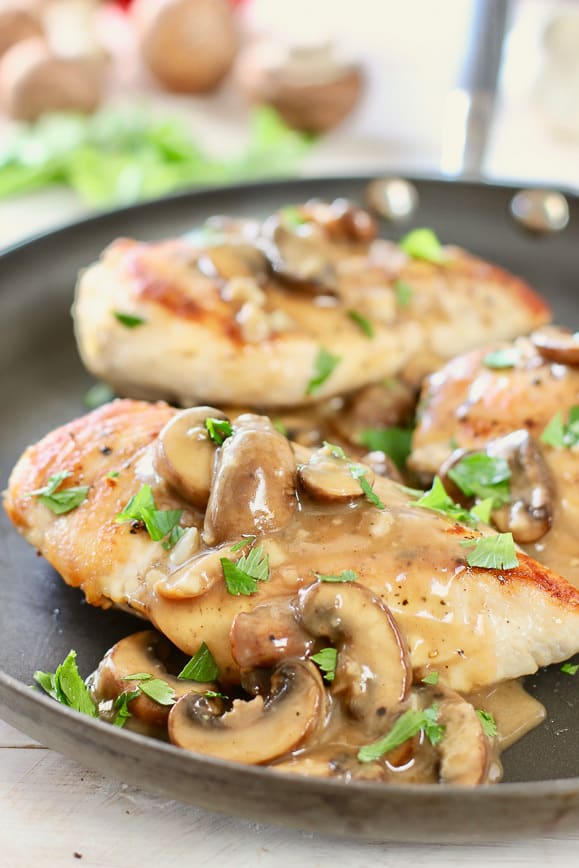 METHOD
Heat large non stick or cast iron skillet to medium high.

Rub chicken with oil and sprinkle liberally with salt and pepper.

Place chicken in dry pan.

Let cook for 4-5 minutes on each side until cooked through and meat thermometer reaches 165 degrees.

Remove from pan, cover and keep warm.

Add 1 tablespoon of butter to hot pan and toss in mushrooms.

Brown for several minutes. (do not salt it will keep mushrooms from browning).  Once your mushrooms are as brown as desired, add a big pinch of salt and pepper.

Add garlic and sauté for 3 minutes.

Add flour and cook for about 1 minute.

Add chicken stock, salt and pepper to taste.

Serve sauce over seared chicken.
Kale, Pomegranate and Avocado Salad
(Serves 1) via deliciouslyella.com
Massaging the kale may sound strange, but it works brilliantly to soften it, while the tahini, cider vinegar and lime dressing makes it so creamy.
INGREDIENTS
Four big handfuls of kale
125g pomegranate seeds
1 ripe avocado, peeled and roughly chopped
Handful of pumpkin seeds
For the dressing
1 tablespoon olive oil
1 tablespoon tahini
1 teaspoon apple cider vinegar
Juice of 1 lime
Pinch of sea salt
METHOD

Start by washing the kale.
Next, tear small pieces off the stems, discarding the stems and placing the leaves into a bowl.
Drizzle all the dressing ingredients onto the kale and use your hands to firmly start massaging it all into the leaves, as you do this you'll feel the leaves soften and wilt. Keep massaging them for a few minutes to make sure they are really soft.
Stir through the pomegranate seeds, pumpkin seeds and avocado cubes before enjoying.
Sweet Potato Wedges with Tomato, Onion and Brown Rice Salad
(Serves 1) via detoxkitchen.co.uk
Sweet potatoes are great as they last long. Their natural sweetness pairs well with the onion and garlic!
INGREDIENTS
1 large sweet potato (around 400g)
1 tbsp olive oil
3 sprigs thyme
5-7 garlic cloves
200g brown rice
2 broccoli florets
1/2 red onion
2 tomatoes
1 tsp apple cider vinegar
For the Caesar dressing (makes a pot of 500ml):
300g cashew nuts
400ml water
150ml rapeseed oil
100ml Tamari or soy sauce
2 tsp garlic powder
2 tsp mustard powder
20g capers
Pinch black pepper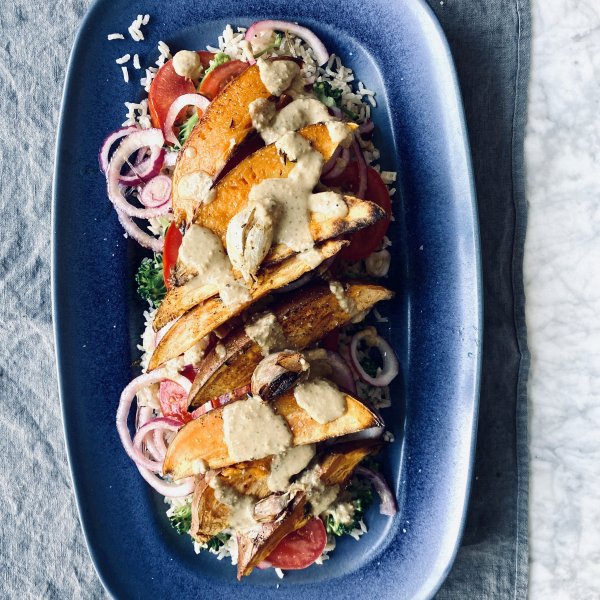 METHOD
Cut the sweet potato into wedges. Place on a baking tray, drizzle with olive oil and sprinkle with thyme. Crush the garlic cloves in their skin using the palm of your hand and place these between the wedges.
Roast in the oven at 200 degrees for 25-30 minutes until soft on the inside and crisp to touch.
Place the brown rice in a pan with cold water and bring to the boil. Simmer for 18-25 minutes until tender.
Slice the red onion into ringlets and place in a boil, cover in the apple cider vinegar, pinch of salt and a drizzle of olive oil. Set aside, the onions should turn a lighter shade of pink.
Bring a small pan of water to the boil and cook the broccoli florets for a few minutes. Drain and set aside.
Place all the Caesar dressing ingredients I to a food processor and blitz until smooth.
Assemble the dish by layering the rice, broccoli, sliced tomatoes and onions onto a large serving dish. Top with the sweet potato wedges and drizzle generously with the Caesar dressing (around half the amount made).
Easiest Pancake Recipe
(Serves 4) via thekitchn.com
You can make and freeze pancakes in advance (or even freeze the batter), or you could master this one-bowl recipe that requires just six pantry ingredients and is ready in 30 minutes or less.
INGREDIENTS
1 

cup 

milk

1 

large egg

2 

tablespoons 

vegetable oil, plus more for cooking

1 

cup 

all-purpose flour

2 

tablespoons 

granulated sugar

1 

teaspoon 

baking powder

1/4 

teaspoon 

salt

Powdered sugar or maple syrup, for serving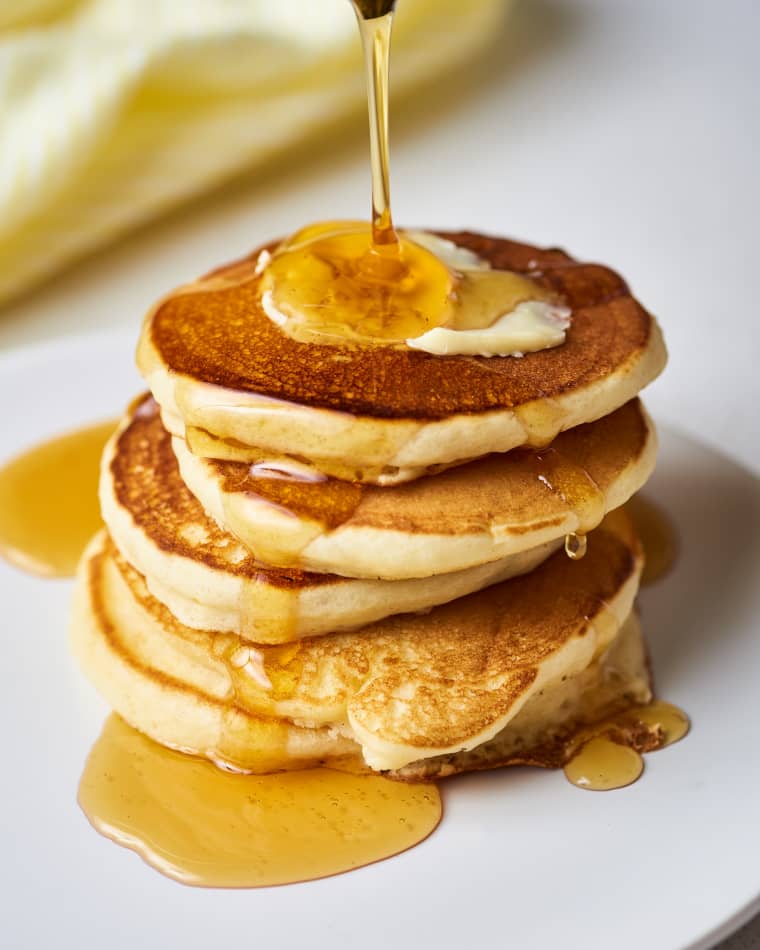 METHOD
Skip the mixing bowl entirely and shake up the batter in 

a Mason jar

. Place the milk, egg, and oil in a quart jar first. Add the flour, sugar, baking powder, and salt.

Seal the jar and shake the jar vigorously for at least 2 minutes. Don't stress about any small lumps in the batter.

Set the batter side for 10 minutes. Meanwhile, heat a large cast iron or nonstick skillet over medium-high heat.

Add 1 teaspoon of vegetable oil to the pan and swirl to coat. Add 2-tablespoon portions of the batter to the pan, cooking 3 at a time. Cook on the first side until bubbles appear on the surface, the edges begin to look dry, and the bottoms are golden-brown, about 3 minutes.

Flip the pancakes. Cook until the second sides are golden-brown, 2 to 3 minutes more. Transfer to a warm oven or plate. Repeat using the remaining oil and cooking the remaining batter.
---